a wide variety of storefronts and restaurants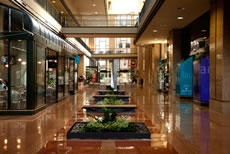 See a list of our retail tenants with more detailed information.
Retail Tenants »
At Place St. Charles, we strive to offer our tenants and their customers every possible convenience.
In the Retail Center you can buy anything from a diamond bracelet to the finest men's suits to a new piece of art for your office, and dine deli-style or indulge in foreign cuisine.
This is why we offer a wide variety of storefronts, where one can purchase jewelry, cellular service, and fine art, just to name a few items available. The Balcony Cafés and restaurants tempt the tastebuds with cuisine ranging from soup to sushi, and virtually anything in between.