The best location.
The best place.
The best space
for business.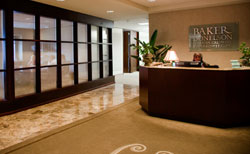 Combined with the best location, the best space, and the best value, the best management makes Place St. Charles the best place to be… for all the best reasons.
Office Tenants »
With over one million square feet of office and retail space, Place St. Charles offers an unparalleled work environment.
At Place St. Charles, our service is as sweeping as the view. As a tenant, you can expect consistently responsible, professional, and conscientious service. Convenient on-site management and leasing means your needs will be responded to quickly and efficiently.
To be in the thick of things yet still stand head and shoulders above the crowd. It's what our tenants expect from Place St. Charles. The building rises out of and soars above the heart of the Central Business District. Strategically located within easy walking distance of the city's largest banks, corporate communities, and government headquarters. Sweeping views of the city are offered from each floor, most notably a majestic panorama of the Mississippi River.
Getting to and from your place of work is of vital importance to you and all who do business with you. At the center of New Orleans' bustling business center stands Place St. Charles, bounded by Gravier, Common, Carondelet, and St. Charles, providing easy access to and from the city's major thoroughfares.