Serving up healthy and nutritious meals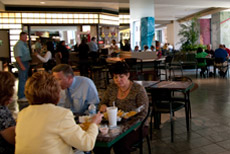 The restaurants in Place St. Charles make it easy to choose healthy and nutritious meals. We've selected our healthy favorites to share with you.
Restaurants »
Place St. Charles Invites You to Dine at the International Balcony Cafés
Entice your senses and whet your appetite for a world tour!
American, Mexican, Asian, Greek, Italian, Southern and other cuisines represent the diversity of Place St. Charles' lunch experience. Become a world taste traveler at Place St. Charles Balcony Cafés without ever leaving the building!